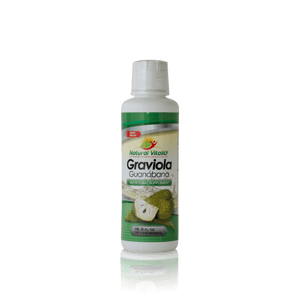 Guanabana | Graviola - Soursop
Is considered a super food due to its high antioxidant content. It's full of vitamins and minerals like magnesium, vitamin C, vitamin A, potassium, calcium, and vitamin B1. The antioxidants found in soursop contain phytonutrients known to have anti-cancer and anti-tumor properties. 
Benefits:
Anti-inflammatory properties help relieve rheumatism or arthritis pain
Helps with treating infections caused by bacteria, parasites, and viruses
Helps balance blood sugar levels
Aids in better sleep, relieve stress and other issues like depression
Anti- ulcer properties help promote healing of the stomach lining
Boosts immune system, helps with respiratory problems such as asthma
Suggested Use: Tea:
1-2 teas per day
Capsule:
1-2 capsules, 1-3 times per day
Liquid:
Take 1 capful, 1-2 times per day
-------------------------------------------------------------------------------------------------- 
Guanabana
La guanábana es considerada un súper-alimento debido a su alto contenido de antioxidantes. Tiene un alto contenido de vitaminas y minerales tal como el magnesio, vitamina C, vitamina A, potasio, calcio y vitamina B1. Los antioxidantes en la guanábana contienen fitonutrientes conocidos por sus propiedades anti–cáncer y anti-tumor. 
Beneficios:
Sus propiedades anti inflamatorias ayudan al reumatismo y dolores de artritis
Ayuda a combatir infecciones causadas por bacteria, parásitos o virus
Mejora y ayuda a estabilizar los niveles de glucosa
Ayuda a para relajar y tener un mejor sueño, ayuda al estrés y problemas de depresión
Contiene propiedades cicatrizantes lo cual ayuda a tratar ulceras del gastritis
Aumenta el sistema inmunológico y ayuda con problemas respiratorios tal como el asma.
Uso Sugerido:
Te:
tomar 1-2 tés al día
Capsula:
Tomar 1-2 capsulas 2-3 veces al día
Liquida:
tomar 1-2 copitas al día
---
We Also Recommend
---