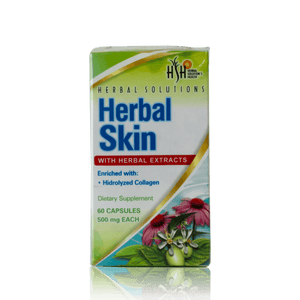 Herbal Skin
Give your skin the nutrients it needs to glow! This is a premium blend of natural herbs to help treat your skin from the inside out.
Benefits:
Promotes blood circulation to the skins' surface to calm and heal skin issues such as aging, acne, psoriasis, and eczema
Its loaded with antioxidants so it helps protect your cells from damage due to free radicals and reduces age spots
Improves the texture of skin, helps reduce cellulite, and stretch marks
Suggested Use: Take 1 capsule 3 times a day
Ingredients: Burdock Root, Neem, Echinacea, Chlorophyll, Collagen
---------------------------------------------------------------------------------------------------
HERBAL SKIN
Dale a tu piel los nutrientes que necesita para brillar! Esta mezcla propietaria ayuda a curar tu piel desde adentro hacia afuera.
Beneficios:
Mejora la circulación sanguínea para que así llegue a la superficie de la piel.
Ayuda a calmar y sanar problemas de la piel como envejecimiento, acné, psoriasis y eczema.
Alto en antioxidantes que ayudan a proteger las células de radicales libres y reduce manchas en la piel
Mejora la textura de la piel, disminuye la celulitis y estrías.
Uso Sugerido: Tomar 1 capsula 3 veces al dia
Ingredientes: Raiz de Bardana, Hoja Neem, Raiz de Echinacea, Exctracto de Clorofila, Colageno Hidrolizado
---
We Also Recommend
---