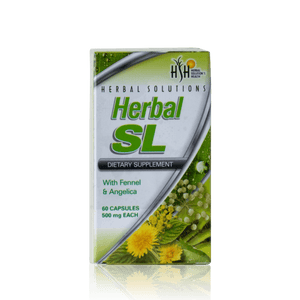 Herbal SL
Helps with gastrointestinal disorders such as IBS (Irritable bowl syndrome).

Benefits:
Helps sooth the gastrointestinal tract to reduce cramping, bloating or gas
Contains Angelica which is a used to aid heartburn, nervousness and circulation problems
Helps flush excessive fluids from the body without dehydrating or creating an electrolyte imbalance
Goldenseal root is a bitter and improves digestion by increasing the amount of saliva and other digestive juices to better help our body breakdown food.
Goldenseal root also has a cleansing and antibiotic properties which help soothe inflammation and irritation thus allowing the body to better absorb nutrients
Suggested Use:
 Take 1 capsule up to 3 times a day before meals
Ingredients:
Fennel, Angelica, Dandelion, Golden Seal, Horsetail
---------------------------------------------------------------------------------------------------
Herbal SL
Ayuda a los problemas gastrointestinales tal como síndrome de colon irritable
Beneficios:
Ayuda a calmar el tracto gastrointestinal lo cual ayuda a reducir los calambres, la hinchazón o los gases
Contiene Angélica, que se utiliza para aliviar la acidez de estómago, el nerviosismo y los problemas de circulación
Ayuda a eliminar el exceso de líquidos del cuerpo sin deshidratarlo ni crear un desequilibrio de electrolitos.
La raíz del sello de oro es considerada un hierba amarga que estimula la secreción de jugos gástricos y la bilis, y hace que ayuda a nuestro cuerpo a digerir con mas facilidad los alimentos
La raíz de sello de oro también tiene propiedades limpiadoras y antibióticas que ayudan a calmar la inflamación y la irritación, lo que permite que el cuerpo absorba mejor los nutrientes.
Uso Sugerido:
 Tomar 1 capsula hasta 3 veces al día antes de los alimentos
Ingredientes:
Fennel, Angelica, Dandelion, Golden Seal, Horsetail
---
We Also Recommend
---